Mr. Guo Ao had won the Best Paper Award at the CPSCom2016
Mr. Guo Ao had won the Best Paper Award in the 9th IEEE International Conference on Cyber, Physical, and Social Computing (CPSCom 2016) held in Chengdu, China, December 16-18. The paper is entitled as "A Context-aware Scheduling Mechanism for Smartphone-based Personal Data Collection from Multiple Wearable Devices", which has proposed a novel context-aware scheduling mechanism to dynamically adjust the data collection schedule based on varying situations of wearable condition, network availability, computing resource and user state. This paper presents the details of this context-aware scheduling mechanism, and a corresponding smartphone-based system to collect personal data from multiple wearables and upload the gathered data to a server.
As an emerging cross-disciplinary research area, the Cyber Physical System (CPS) is attracting attention worldwide. A cyber physical system is one featuring a combination of computational and physical elements, all of which are capable of interacting, reflecting and influencing each other. Furthermore, social systems are evolving with cyber systems and physical systems along with the popularity of online social networking. With the advent of ubiquitous sensing and networking, future social networks turn into cyber-physical interactions, which are attached with associated social attributes. The emergence of the cyber-physical-social computing will significantly change the way we see the world. In the meantime, the convergence of the cyber, physical, and social spaces will exhibit a variety of complicated characteristics, which brings more open issues and challenges for research communities. The goal of this conference is to promote community-wide discussion identifying the Computational Intelligence technologies and theories for Cyber, Physical, and Social Computing.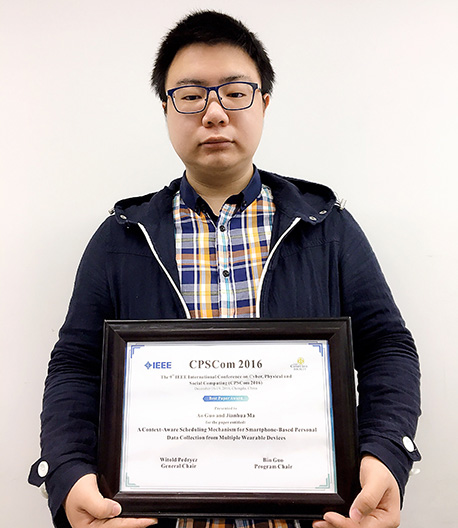 Award Winner
Mr. Guo Ao
Award Title

Best Paper Award

Date

2016-12-17

Paper Title

A Context-Aware Scheduling Mechanism for Smartphone-based Personal Data Collection from Multiple Wearable Devices

Author

Mr. Guo Ao (Graduate School of Computer and Information Sciences, Doctoral Student)
Prof. Jianhua MA (Professor of Digital Media and Graduate School)
Links